THE INCA QUARRY TRAIL TREK TO MACHU PICCHU IS THE ULTIMATE GLAMPING EXPERIENCE!
Veronica View's guides will take you off the beaten track! This trek also brings you the most luxurious camping experience!  The Inca Quarry Trail Trek to Machu Picchu is a uniquely designed trek, taking you to remote and rarely visited Inca ruins. You'll visit cascading waterfalls (Perolnuyoc), view wild panoramic landscapes, ancient Inca aqueducts, and take yourself back in time to the Inca stonemason's unmatched masterpieces.
We will provide you with a luxury 'glamping' experience on this trail, followed by the exclusive Veronica View Hotel, complete with a swimming pool, sauna, and exquisite gardens! Take time to relax after your strenuous trek, with an unparalleled view of the spectacular Veronica Mountain. Then board the most scenic Vistadome train to Aguas Calientes! On your final day, will be the long awaited tour to explore and experience the New 7 Wonder of the World of Machu Picchu!
*** This tour will be operated by our SAM Travel Peru parthner!!
DAY 1: Cusco – Socma – Rayan – Puccaqasa
We leave from Cusco or Sacred Valley at 5:00am, drive for half an hour to the traditional Inca community of Socma. After a gourmet breakfast, we start walking to the spectacular Perolniyoc Waterfall. It is the perfect opportunity to pause and take photos with such an impressive backdrop. Another hour and a half on the trail takes us to the Perolniyoc Archeological Site. Two more hours on the trail brings us to lunch at Rayan (3700m/2139ft). After a delicious and hearty lunch, we set off for the biggest challenge of the trek: two and a half hours uphill to the first pass, known as Puccaqasa (4400mts). Enjoy the spectacular 360º views and the exhilaration of making it to the top! Only a half hour more of trekking through a rolling valley to take you to the campsite. Appetizers and hot drinks will be waiting for you and your tents will already be set up, so you can settle in before dinner.
Meals included: Breakfast, lunch, afternoon tea, dinner
Accommodation: Luxury camping with 4 season EUREKA tents
Distance: 13kms/8 miles
Time: 8 hours, approximately
Difficulty: Moderate to Challenging
DAY 2: Puccaqasa – Quychicassa – Inti Punku – VERONICA VIEW HOTEL
Today's hike will be a relief after yesterday's challenging trek and it´s also going to be incredibly scenic! A 2-hour walk along the rolling valley takes us to the top of the Quychicassa Pass (4450m/14599ft). After enjoying the picturesque views of the glacially carved valleys below, we descend one hour down a steep grade of switchbacks. One more hour of a gentle downhill takes you to the site that the Incas called Inti Punku, (meaning Sun Gate) with its expansive views over the valley. The horizon is dominated by the picturesque Veronica Mountain.
Enjoy another gourmet meal at this impressive archeological site. The first hour down from Inti Punku is steep, but the next two hours are a very gentle downhill to the Veronica View Hotel. Enjoy a our world class chef's dinner, then relax in the swimming pool, spa or sauna. Take full advantage of our spa by treating yourself to massages to ease your aching muscles from the trek!
Meals included: Breakfast, lunch, dinner
Accommodation: Veronica View Hotel
Distance: 15kms/9.5 miles
Time: 7 hours approximately
Difficulty: Moderate/Difficult
DAY 3: VERONICA VIEW HOTEL – Ollantaytambo – Aguas Calientes
Wake up with the spectacular view of the Veronica Mountain and glacier right in front of you! Enjoy a relaxing morning at the spa or in our garden of native flowers. You will appreciate the secluded location, in one of the calmest locations in the Sacred Valley. Enjoy a mouth-watering lunch and relax in the swimming pool, sauna or grab a book and enjoy the grounds and the enchanting landscape. A short drive to the train station and we take the 13:37 Vistadome train to Aguas Calientes where we stay overnight at our hotel.
Meals: Breakfast, lunch, dinner
3* Accommodation: Inti Punku Machu Picchu or Waman Machu Picchu
Distance: 8kms/5 miles
Time: Relaxing all day
Difficulty: Easy
Day 4: Aguas Calientes – Machu Picchu – Veronica View
After, you'll take one of the first buses up to Machu Picchu so that you can be there to witness the sunrise. It is truly an extraordinary site and not something you'll want to miss! Your guide will give you a guided tour of about two hours. You get to see the majestic Machu Picchu, how much of it you see depends on the number of circuit tickets purchased, the tour only includes 1 circuit. (please review circuits) .
You may wish to indulge in a few of the following activities (not included in the price):
Climb Huayna Picchu or Machu Picchu Mountain– appreciate the beauty and magnificence of Machu Picchu from above. These extra hikes sell out fast and must be requested at time of booking.
Other optional activities in Aguas Calientes include a visit to the new local museum or to the hot springs. (entrance fees )
When you are ready, you will descend to Aguas Calientes, have a leisurely lunch on your own, and then board the Expedition train which departs at 14:55pm for the return trip to the Ollantaytambo Station, where you will catch our private van back to the Veronica View, arriving by 17:00. You'll have time for a soak in the swimming pool or sauna before dinner. (If you are going back to Cusco, there is an additional charge for transportation.)
Meal: Breakfast
Difficulty: Easy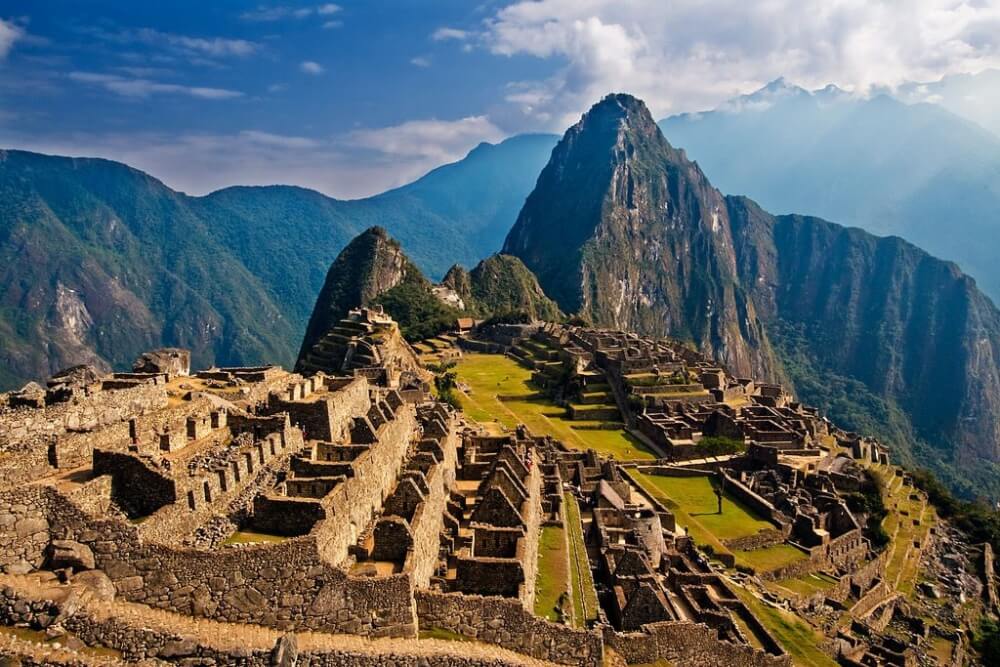 What is included for the Inca Quarry Trail Trek to Machu Picchu?
What is not included for the Inca Quarry Trail Trek To Machu Picchu?
Optional Upgrades: Hotel Or Train
The Inca Quarry Trail Trek to Machu Picchu is available on request , it does however require a 2 person minimum.
PRICE – $547 USD per person

***This price includes the extra pack horse which will carry your belongings up to 7 kgs, we will provide a duffle bag you can put your things in.
***We provide large Eureka 4 person tents for each 2 trekkers.
DISCOUNTS
18 to 25 years old: $30 USD. Information required on student card: name of university, student name, photo of student, expiration date etc. A copy of the card at booking is required & government approval for discount.
Under 18 years old: $30 USD. Please send us a copy of your passport at the time of booking.
Under 11 years old: $40 USD. Please send us a copy of your passport at the time of booking.
Group of 5 or more: $30 USD. – All you need is to book the trek together at the same time.
EXTRAS
Sleeping Bag: $20 USD per person per trek (It will be clean and warm)
Air Mattress: $20 per person per trek (Therm-a-rest mattresses)
Walking Poles: $15 USD per pair per trek (Professional Poles that can be extended)
Personal tent: $30 USD – (Tent for single trekkers only)
Vistadome Train Upgrade: $67 USD per person (For the return to Cusco)
Huayna Picchu Mountain : $75 USD per person (Please request when you book your Trek)
Machu Picchu Mountain : $75 USD per person (Please request when you book your Trek)
Single Supplement : $40 USD extra in a 3* hotel for solo travelers
ADDED VALUES FOR FREE
Foam mattresses for every hiker
Camping pillow
Transfer airport to hotel (only in Cusco)
Duffle bags (for your personal belongings which the pack horse will carry)
Plastic bags (to double protect against moisture in your duffel bag)
Extra blanket for the tent are included in the trekking price!
EXTRA pack horse is included in the price, the horse will carry your things up to 7 kgs / 14p sleeping bag, mattress, clothes etc.
COLD BOILED WATER will be provided along the trek, there will be hot and cold water at each meal time.
OXYGEN TANK will be available.
EMERGENCY HORSE is included which can be ridden if you feel tired or sick
BEST ITINERARY operated Inca Quarry Trail to Machu Picchu specialists
EXCLUSIVE ACCESS to the Veronica View sauna and swimming pool
Please read the following information carefully, as it will help answer most of your questions about our services and the Inca Quarry Trail Trek to Machu Picchu.
THE BRIEFING
We provide a briefing the evening before your tour in our offices in Cusco.
CAN I STORE MY LUGGAGE AT THE OFFICE?
Of course! During the Inca Quarry trail Trek to Machu Picchu your main luggage can be stored in our secure storage facilities in our office or at your hotel.
HOW TO BOOK THE INCA QUARRY TRAIL TREK TO MACHU PICCHU?
FIRST, to book your Inca Quarry Trail Trek to Machu Picchu, you need you to fill out our booking form by clicking on BOOK NOW on our homepage or click here- BOOK NOW
Please be ready with the following information (FROM EACH PARTICIPANT in your group). We cannot purchase an Inca Quarry Trail Trek to Machu Picchu permit without the following information:
Personal information (your full name, exactly as it appears on your passport):
Gender
Passport number
D.O.B (dd / mm / yyyy)
Nationality
SECOND, we require a deposit of $211.00 USD per person in order to purchase a permit for the Inca Quarry Trail Trek to Machu Picchu. You can make a deposit by clicking on the VISA or PAYPAL symbol on the top of our home page, or you can click on the VISA or PAYPAL symbol on our booking page.
MAY I CHANGE THE DEPARTURE DATE AFTER THE TICKETS HAVE BEEN BOUGHT?
Unfortunately the answer is generally No. Once the Machu Picchu tickets have been bought the government does not allow any changes, so we can't change any departure dates. Tickets are not transferable nor refundable. Please contact the office as soon as possible if you need to change your date.
*** If you cancel your Lares trek to Machu Picchu, the deposit is non-refundable!
DO I NEED MY ORIGINAL PASSPORT?
Yes! You have to bring your original passport and it is very important that it is the same passport number you sent to us to book your Inca Quarry Trail Trek to Machu Picchu, or any other entrances and reservations. The rangers will check your passport when you enter Machu Picchu. The train company will also check your passport before allowing you to board the train. In case you are renewing your passport or changing your name, you can still go ahead and send us your old passport information to secure your permit, and we can change it when you get your new passport number or updated your name for a fee of $25 per person. We must have a copy of your old and new passport to make the change. Before you change your passport keep a copy of your old one.
If you do not wish to pay this fee you will need to bring both passports to Peru with you. You can enter Peru with your new passport but you will need to show both passports, old and new to be able to enter the Inca Trail, Machu Picchu or the train. If you do not have both you will not be allowed to enter the Inca Trail, Machu Picchu or get on the train. They are very strict about this!!
WHAT IS THE WEATHER LIKE ON THE INCA QUARRY TRAIL TREK TO MACHU PICCHU?
The weather is very unpredictable and it's difficult to foresee. BUT you will have many different seasons depending on location, as you pass through the numerous microclimates. We highly recommend you bring some warm clothes and good rain gear in your day backpack.
WHAT ABOUT ALTITUDE SICKNESS?
In general if you exercise regularly and spend 2 to 3 days in Cusco, or in the Sacred Valley acclimatizing to the altitude, you may be just fine.
The recommended medicine for altitude sickness is WATER, COCA TEA and OXYGEN IF NEEDED; our guides are trained to treat you for Altitude Sickness. For more detailed information on Altitude Sickness click on this link: Altitude Sickness.
We offer the Cusco City Tour and Sacred Valley tours that you can book while you are acclimatizing. Check out our day tours on our Main Page.
HOW MANY PEOPLE ARE THERE PER GROUP?
The maximum group size is 8 persons. Usually our groups are between 2-6 persons. VV Hotel & Tours specialises in SMALL, PRIVATE groups and provide personalised service.
HIKING THE INCA QUARRY TRAIL TREK TO MACHU PICCHU
The evening before you start your Inca Quarry Trail Trek to Machu Picchu, you will be given a small duffel bag to pack your clothes for the next four days. Your weight allowance is up to 7kg/14p. Your team of pack horses will carry your duffle bag for you, together with the food and camping gear. It's important to be aware that you will not have access to your items in the duffle bag until the end of each day, as the horses will always be ahead of the group. During the trek, you need a day backpack big enough to carry your personal belongings such as a warm jacket, a rain jacket, your camera, sunscreen, snacks, water, etc. Usually a 25 to 30 litre backpack is sufficient.
IS THE INCA QUARRY TRAIL TREK TO MACHU PICCHU DIFFICULT, DO I NEED TO BE FIT?
The Inca Quarry Trail Trek to Machu Picchu is a 32 km hike through the Andes in the Cusco region. The maximum altitude reached is 4,700mt. On the second day of the trek we climb two mountains. The Inca Quarry Trail Trek to Machu Picchu is a fairly difficult trek and you should be well prepared and healthy prior to starting it. You have to be moderately fit and exercise regularly.
In preparation: try walking 15kms  a day or join a gym in the months leading up to the trek. It is also important to be well acclimatized to the altitude. Try to spend at least 2 or 3 days in Cusco (3350m/11,047ft) prior to starting the trek.
WHAT ABOUT TOILETS ON THE TREKS?
You will highy appreciate this aspect of our treks, especially if you are a person that prefers a private, clean and sanitary toilet! VV Hotel & Tours bathroom facilities have an individual tent and a camping toilet with a seat. Check out the picture, which illustrates how we set up our camping toilet on the trek by using this link: picture of toilet tent. We always set up the toilet a comfortable distance from our campsite. if you need to use the toilet at night,it is readily accessible and clean.
ARE WE GOING TO BE DROPPED AT OUR HOTEL AFTER THE INCA QUARRY TRAIL TREK TO MACHU PICCHU?
Absolutely!! Included in the package and on the last day we will drop you at your hotel! If you have booked your hotel in the Sacred Valley like Ollantaytambo or Urubamba, we will drop you there too! If you spend the night at Ollantaytambo before the Inca Quarry Trail Trek to Machu Picchu, we will pick you up from there !
TIPPING
If you're happy with the services provided, a tip – though not compulsory – is appreciated. While it may not be customary in your country, it's of great significance to the people who will take care of you during the hike. It inspires them to give excellent service and is an entrenched feature of the tourism industry across many Tourist destinations and the VV Hotel. Of course you are free to tip as much as you want, depending on your perception on the quality of service and the length of your trip. Remember, a tip is not compulsory and should only be given when you receive excellent service.
ARE WE SUSTAINABLE?
Yes! Veronica View Hotel & Tours is a local, sustainable & responsible tourism operator. We incorporate the universal principles of tourism: protect the environment and benefit the local communities by respecting their culture and religion. With this in mind, we have trained all our local staff to know, understand, and respect the places and its local people.
WHAT YOU HAVE TO TAKE WITH YOU FOR THE INCA QUARRY TREK TO MACHU PICCHU:
Original Passport (it has to be the same as the one you used when booking your trek)
Valid University ID card (if you booked as a student)
Good daypack (the smaller, the better)
Water storage: 2-3 litre reusable bottles (please do not bring disposable bottles)
Comfortable hiking boots with ankle support
Headlamp: essential
Toilet paper
WHAT TO PUT IN YOUR DUFFLE BAG FOR THE INCA QUARRY TRAIL TREK TO MACHU PICCHU
As a Professional Direct Local Tour operator we provide you with a duffle bag at your briefing and INCLUDE an extra pack horse which will carry up to 7 kgs or 14 pounds including your 2.5kg sleeping bag, mattress and extra clothing. By Peruvian law, a duffel bag must not weigh more than 7 kilograms (15lbs). This limit is set to protect the health of the porters and horses. All bags will be weighed before being accepted. If you require more than 7 kilograms, it will then be your responsibility to carry the extra weight with your day pack. In this 7 kilos, please count 2 kilos for your sleeping bag and 1 kilo for your sleeping pad. This leaves you about 4 kilos for your personal gear.
2 t-shirts
at least 2 hiking pants
4 sets of undergarments
3 sets of hiking socks
Bathing Suit for the Veronica View swimming pool and sauna
Fleece/ Thermals
Warm clothes, down jacket — 2nd campsite temp around 3º Celsius.
Waterproof gloves (even if they are ski gloves, bring them)
Comfortable shoes for camp
Quickdry towel. We provide small ones, you might prefer something larger.
Small bottle of soap: we provide warm water each day to wash.
Extra batteries, there is no electricity along the trek
Large plastic bags will be provided at the office .
Sleeping bag: It has to be at least -15ºC – This can be rented from us.
TOILETRIES FOR THE INCA QUARRY TRAIL TREK TO MACHU PICCHU
Sunscreen
Insect repellent
Face moisturizer
Hand sanitizer
Wet wipes
Toothbrush and paste
Personal medications
First aid kit: band aids, moleskin, etc.
WHAT TO PUT IN YOUR BACKPACK FOR THE INCA QUARRY TRAIL TREK TO MACHU PICCHU?
We highly recommend a small backpack 25 to 30 Liters for hiking in the day. A big backpack will not be allowed into Machu Picchu. The remainder of your belongings will be in your duffel bag at camp.
Water: Please supply your own water until the first lunch spot, then we will provide you with cold boiled water at every meal time. Please bring your reusable bottles.
Sun hat
Sunscreen
Headlamp: essential
Wool hat
Rain gear
Fleece
Snacks like chocolate bars, cereal bars or any dry fruit
Rain poncho (provided by VV Hotel)
Gloves
Camera
Hand sanitizer
Toilet paper and small plastic bag for waste
Extra money for souvenirs, drinks & tips
Valuables