Sacred Valley Tour from Ollantaytambo to Cusco
speak with a travel specialist
1 Days
Ollantaytambo, Moray, Salt Mines, Pisac
Our Sacred Valley Tour is specially designed for those most interested in archeology. We take you to the best highlights of the Sacred Valley: Ollantaytambo, Moray, the Maras Salt Mines and Pisac Inca ruins & market. All of this is provided in a small private tour with a guide who is passionate about Inca archeology, culture and history.
The valley between Ollantaytambo and Pisac is known as the Sacred Valley of the Incas. It is strategically located between Cusco and Machu Picchu and played a key role in Inca culture and history. The Valley has a milder climate and is at a lower altitude than Cusco. Throughout the day, you will see picturesque villages, ancient Incan terraces, and the most important archeological sites.
Only the VV Hotel & Tours has such a special Sacred Valley experience!
Places You Visit with Us on the Sacred Valley Tour from Ollantaytambo
The magnificent archeological site of Ollantaytambo and amazing views of the valley
The Moray Archeological site, where you learn about Incan agricultural experimentation
The famous Pre-Inca Salt Mines of Maras where naturally salty spring water is gathered in the same way it has been for hundreds of years
A quick stop at Urubamba for lunch (not included in price)
The extensive Pisac Inca ruins, which have many impressive examples of Inca architecture
The colorful local market of Pisac, where you can see local people who are keeping traditional culture alive
No other travel agency except us visits all of these sites in their Sacred Valley Tour!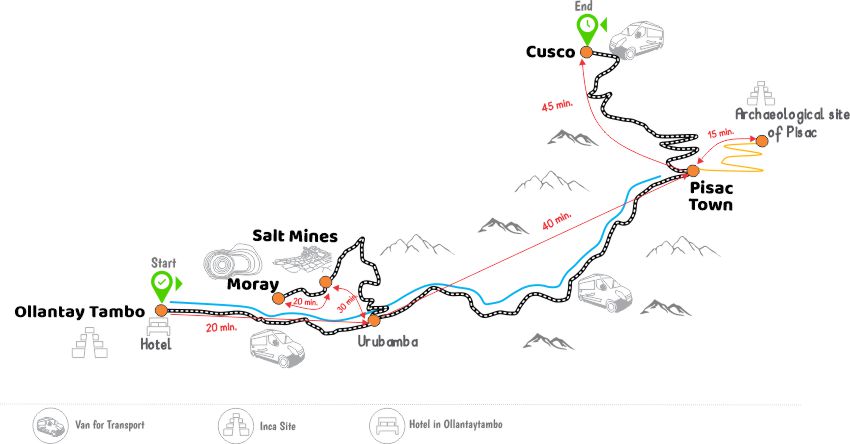 Sacred Valley from Ollantaytambo
We can take you on the full Sacred Valley tour starting in the town of Ollantaytambo! Keep reading for a sneak peak of the highlights!
OLLENTAYTAMBO
At 8:00 we head out from the Veronica View (7:30 pick up in Urubamba) to start your day at the imposing ruins of Ollantaytambo. You will have the opportunity to explore the archeological site for about 1 hour while your guide explains the historical and cultural significance of this important site. This is a very extensive site with many fascinating parts to see. You will learn about the incredible architecture of the Sun Temple, admire the water fountains, the Intihuatana and the impressive storehouses.
MARAS
The Maras Salt Mines (Salineras), close to the colonial town of Maras, are Pre-Inca. Hundreds of saltpans decorate the hillside and have been used for salt extraction since before the Inca era. A natural spring at the top of the valley discharges a small stream of water heavily laden with salt, which is diverted into saltpans and evaporated to produce a salt that is of very high quality. This is one of the few places in the world where you can find naturally pink salt!
MORAY
The stunning Inca site of Moray is also known as "The Greenhouses of the Incas." Different levels of terraces are carved into a huge bowl, part of which was further excavated by the Incas. The terraces have varied microclimates depending on how deep into the bowl they are placed. It is believed they were used by the Incas to research the optimal conditions for their crops. Like the Salineras, this is a relatively short stop with little walking.
Then we drive to Urubamba for lunch where you have the option of a wide variety of restaurants with delicious Peruvian food, or international cuisine. Just tell your guide what you're in the mood for!
PISAC
Onward, we drive to the archaeological site of Pisac, where you can see an immense Inca cemetery with more than 2000 tombs. You will also learn about the incredible farming terraces carved into the mountain. We will spend about 1.5 hours here, exploring the ancient Inca city. These ruins are quite extensive and you will see many examples of original Incan architecture.
Then we head downhill to the colorful market of Pisac, which we visit for about 20 minutes.
Your last top in the valley is at the Mirador of Taray. This spectacular view of the Urubamba valley is laid out before you, with traditional farming communities in the valley floor and mountain peaks rising from the end of the valley. Another 45 minutes on the road and we are back in Cusco where we will take you to your hotel. Returning to the Veronica View is only about an hour and a half.
What is Included ?
What is not Included ?
Spend more time at the Inca cities in small or private groups during the Sacred Valley Tour!
GROUP PRICES
# OF PERSONS
PRICE
PER PERSON
2 persons
$65 pp
3 persons
$60 pp
4 persons
$55 pp
5 + persons
$40 pp
***Price per person is based on the number of people in the group. When the group is finalized, each person will pay based on the size of the final group. There is no guarantee of how many persons may join except that the limit is 10 persons per group.
***A minimum is 2 people are required to start a group.
PRIVATE GROUP PRICES (Any date)
# OF PERSONS
PRICE
PER GROUP
1 to 6 persons
$177
7 to 10 persons
$240
—
—
—
—
***Private group price is based on group price not per person and will be completely private with your own guide, chauffeur and private van. No others will be added to the group.
***Minimum is 1 person but that person will pay $177 for the private group.
EXTRA FEES
Entrance tickets to archeological sites: 70 soles (approximately US$22) per person, which can only be purchased in soles at the first archeological site. (See important info for more information)
Salt Mine entrance of 10 soles
IMPORTANT INFORMATION
Please read carefully the following information as it will help you answer all of your questions about our services and Sacred Valley Tour.
HOW TO BOOK
FIRST, to book your Sacred Valley & Short Inca trail Machu Picchu, we need you to fill out our booking form by clicking on BOOK NOW on our homepage or click here the link BOOK NOW.
Please be ready with the following information (FROM EACH PARTICIPANT in your group). We cannot purchase an Inca trail permit, entrance to Machu Picchu or the train without the following information:
Personal information (your full name, exactly as on your passport):
Gender
Passport number
D.OB. (dd / mm / yyyy)
Nationality
SECOND, we require a deposit of $53.00 USD per person in order to guarantee the departure. You can make you deposit by clicking on the VISA or PAYPAL symbols on the top of our home page, or you can click on the VISA or PAYPAL symbols on our booking page.
WHAT ABOUT THE BALANCE?
You can pay the balance in cash at the Veronica View reception desk or when we pick you up at your hotel. You can also pay by VISA or PAYPAL online but you will have to pay a 5.5% service charge, charged by VISA and PAYPAL. To pay your balance through PAYPAL, you need to log into your PAYPAL account using our email address of veronicaviewhotel@gmail.com.
WHAT IS THE WEATHER LIKE?
The weather is very unpredictable and it's difficult to foresee. We recommend that you always dress in layers as that makes it easier to adjust to the quickly changing weather patterns.
WHAT ABOUT ALTITUDE SICKNESS?
For some visitors, the first hours in Cusco can be summarized as: shortness of breath, a discomfort in the body, dizziness, headaches, stomachaches, even vomiting. As great connoisseurs of natural medicine, the Incas used coca leaves to counteract soroche, Quechua for high-altitude sickness.
The Veronica View Hotel, and all of the Sacred Valley, are at a lower altitude than Cusco. If you are concerned about the altitude of Cusco, you may want to spend a few days in the Sacred Valley when you first arrive.
TIPPING
If you're happy with the services provided, a tip – though not compulsory – is appreciated. While it may not be customary in your country, it's of great significance for the people who will take care of you during the tour. It inspires excellent service and is an entrenched feature of the tourism industry across many Veronica View Hotel destinations. Of course, you are free to tip more or less as you feel, depending on your perception of the quality and the length of your tour. Remember, a tip is not compulsory and should only be given when you receive excellent service.
ARE YOU SUSTAINABLE?
Yes, we are a local, sustainable & responsible tourism operator for that we incorporate the universal principles of tourism: protect the environment and benefit the local communities by respecting their culture and religion. With this in mind, we have trained all our local staff to know and understand, respect the places and the local people.
WHAT TO BRING FOR THE SACRED VALLEY TOUR?
Warm jacket
Rain gear or poncho
Water in reusable water bottle
Sunscreen and sun hat
Some money for souvenirs
Money in soles to purchase boleto turistico y entrance ticket to Maras
Original passport
If you are a student, take your student ID card (only gives a discount for the 10 day boleto turistico)